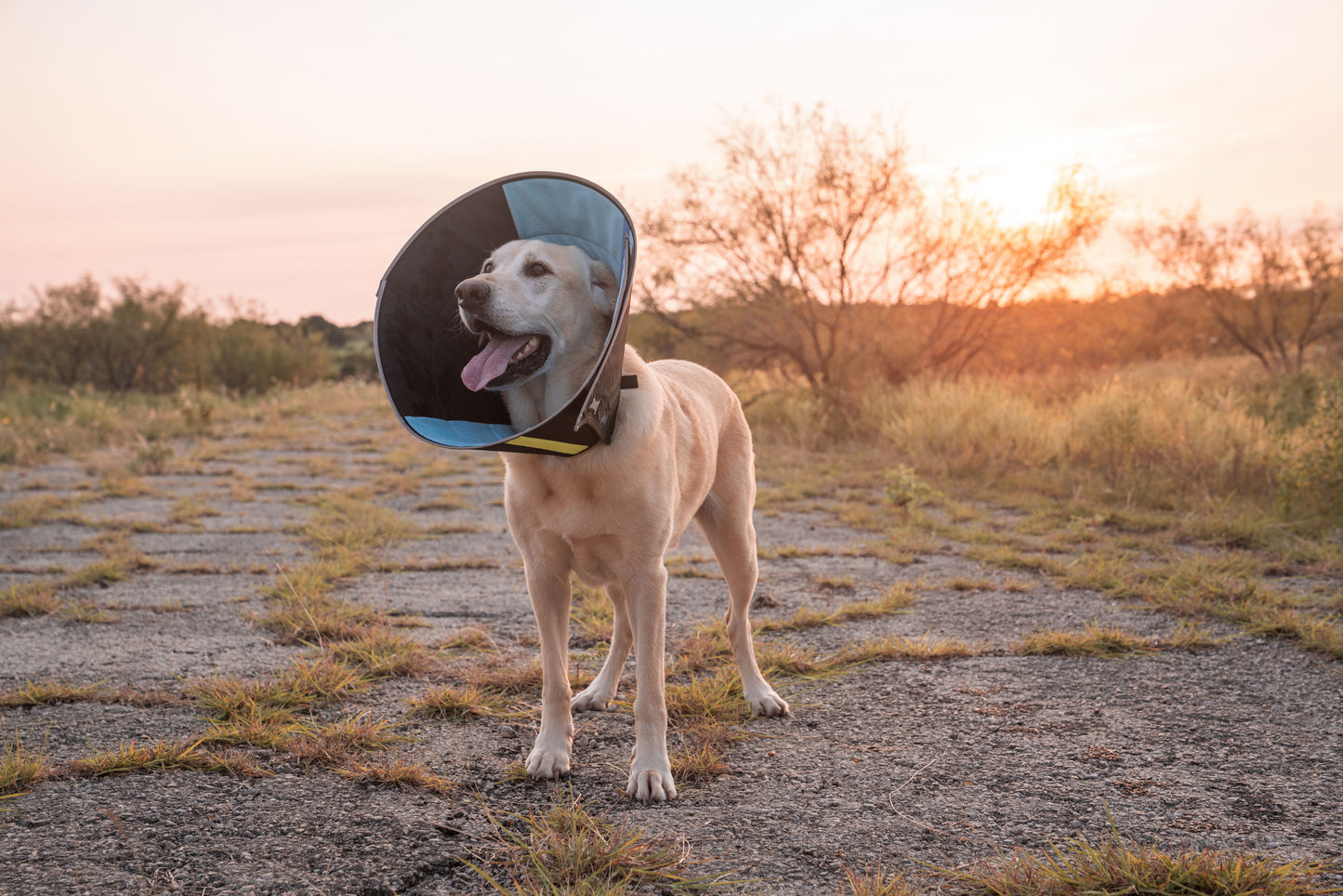 With So Many Options, How to Choose The Best Collar For Your Dog or Cat?
Spays and neuters, hot spots, excessive itching or licking, and any number of other injuries may require the use of a recovery collar. Also known as an Elizabethan collar, or e-collar for short, a recovery cone, or the cone of shame; the recovery collar is still the best option for keeping your pet safe from self-injury or further harm.
However, with so many options it is hard to know what the best recovery collar for your dog or cat may be. It is important to remember that the best collar for your dog or cat depends on their behavior, the injury you are trying to protect, as well as your own personal comfort levels or concerns.
Best All Around: KVP Calmer™ Collar
The absolute best recovery collar on the market is the KVP Calmer™ Collar. This cone-shaped recovery collar combines the best of coverage, comfort, and ease-of-use. The KVP Calmer™ Collar offers full body coverage, is soft-sided but maintains its shape, and incorporates their proprietary EasyFeed® opening so your dog or cat can eat or drink without removing the recovery cone. If those features aren't enough, the KVP Calmer™ Collar is machine washable, and was the first product to every be certified as as Fear Free® This collar comes in a variety of sizes and is available at your local veterinary clinic.
The first commercially produced style of recovery collar, the Saf-T-Shield™ provides the absolute best coverage for your pet. Resembling a satellite dish, this plastic collar is held fast with sturdy, rust proof snaps, and comes with two layers of neck padding for added comfort. Interestingly enough, the Saf-T-Shield™ comes in a variety of sizes the include cat, rodent, and even birds! Looking for an alternative? Try the KVP EZ Clear™. This plastic collar also provides full body coverage and is held in place by a number of Velcro strips so you can get just the right fit. The KVP EZ Clear™ also features a scalloped edge for a softer feel, and because the material itself is clear your pet will be able to see through the recovery cone.
Best for Partial Coverage: KONG® Cloud
Often imitated, but never bested, the KONG® Cloud is the best inflatable recovery collar on the market. Although it provides body-only coverage, this feature allows your pet to have full visibility without a pesky recovery cone in the way. The unique cushioning and plush, washable material keeps your pet secure while being extremely comfortable. The KONG® Cloud is also scratch and bite resistant. The KONG® Cloud inflatable recovery collar works best with pets who need body-only coverage, and those who may be bothered by a full recovery cone. Looking for an alternative? Try KVP's Air-O. This inflatable recovery collar also provides body-only coverage, but like the KONG® Cloud it is also bite and puncture-resistant, durable, and easy-to-clean. Unlike the KONG® Cloud, it is a little broader, offering a bit more coverage.
Unquestionably, the best recovery collar for cats is the KVP EZ Soft™. Like many other recovery collars, it offers full body coverage, and is made of a soft, tear-resistant material. Where this recovery cone differs is that it uses a cinch-tight toggle for easy sizing as well as a Lycra® neckline that keeps the cone securely in place without bothering your cat. Additionally, because the Best for Cats: KVP EZ Soft incorporates Flexstay® technology, it can keep its shape while remaining lightweight and flexible.
Best for Ears: No Flap™ Ear Wrap
For aural hematomas, ear infections, or chronic ear issues, the No Flap™ Ear Wrap is the best recovery collar alternative. This patented head covering keeps your dog's ears secure and protected from constant itching and scratching, while the unique design prevents the No Flap™ Ear Wrap from slipping down or falling off. Made with extremely breathable pinpoint mesh that allows air to flow and heat to escape, the No Flap™ Ear Wrap provides both post-surgical and general ear protection.