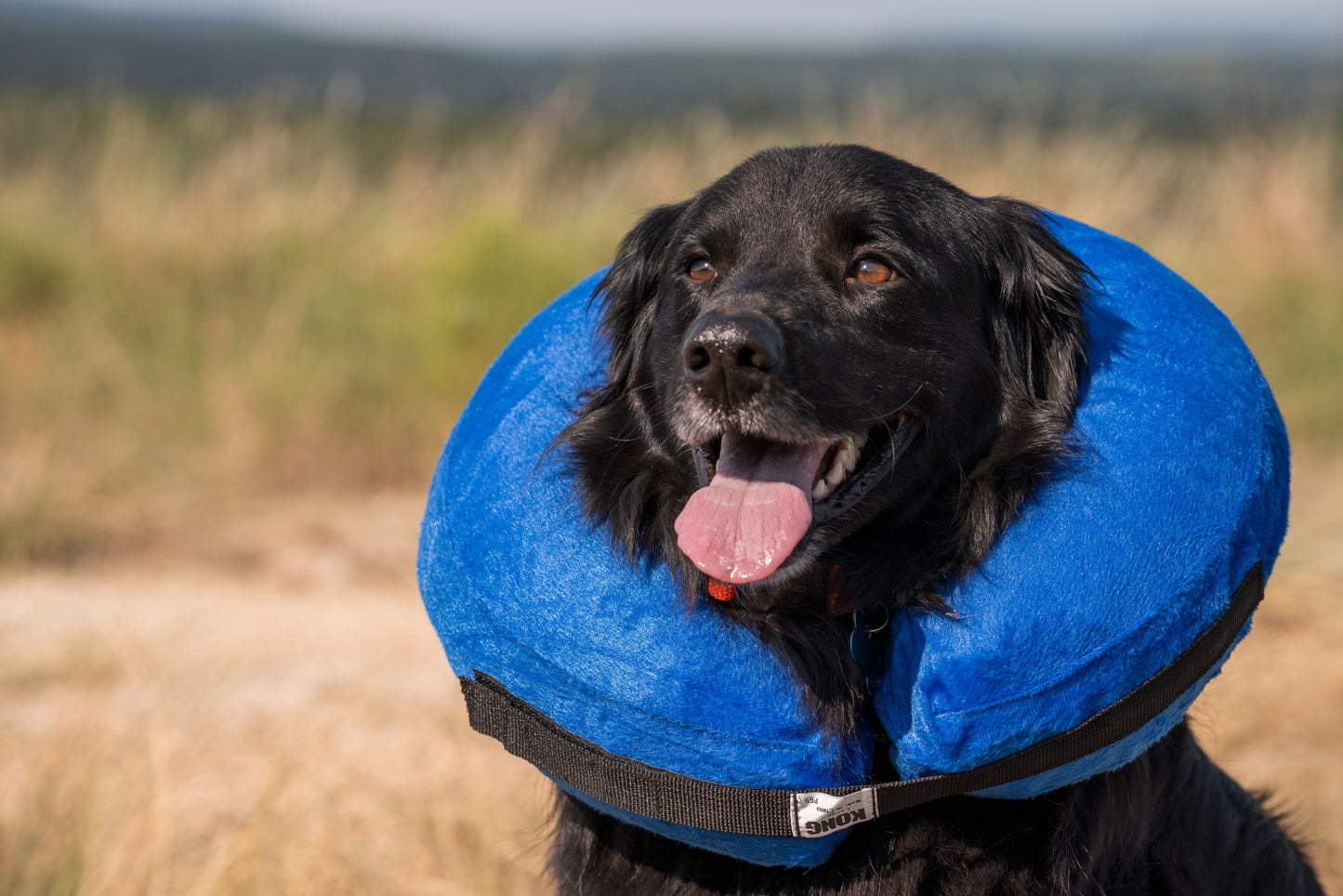 Finding the best dog cone or dog inflatable collar for your pet.
For whatever reason your pet may need a dog cone, comfort is always a key concern, and many pet parents ask, "What is the most comfortable dog cone or collar?" The answer to that depends on a couple of key factors, such as:
Coverage - Based on the injury your pet has sustained, you may need a particular style of dog cone or collar. For example, the traditional rigid dog cone ensures the entire body is protected, including the head, ears, and eyes. However, you may not need that much coverage, and an inflatable dog collar will suffice.


Tolerance- Is your dog comfortable in a cone, or does it cause them stress? Determining your dog's tolerance is also a key. Some dogs do not mind wearing dog cones any more than they mind wearing other clothing, whereas it causes quite a bit of distress to others. For those dogs who do not tolerate a cone well, an inflatable collar may be a better option. A word of caution though, inflatable collars do not offer full-body protection.
When trying to decide between a dog cone or an inflatable collar, the decision really depends on your pet's injury and how well they tolerate a dog cone.
The absolute best recovery collar on the market is the KVP Calmer™ Collar. This cone-shaped recovery collar combines the best of coverage, comfort, and ease-of-use. The KVP Calmer™ Collar offers full body coverage, is soft-sided but maintains its shape, and incorporates their proprietary EasyFeed™ opening so your dog or cat can eat or drink without removing the recovery cone.
If those features aren't enough, the KVP Calmer™ Collar  is machine washable, and was the first product to every be certified as Fear Free™.
This collar comes in a variety of sizes and is available at your local veterinary clinic.
Often imitated, but never bested, the KONG™ Cloud is the best inflatable recovery collar on the market. Although it provides body-only coverage, this feature allows your pet to have full visibility without a pesky recovery cone in the way. The unique cushioning and plush, washable material keeps your pet secure while being extremely comfortable. The KONG™ Cloud is also scratch and bite resistant. The KONG™ Cloud inflatable recovery collar works best with pets who need body-only coverage, and those who may be bothered by a full recovery cone. Looking for an alternative? Try KVP's Air-O™. This inflatable recovery collar also provides body-only coverage, but like the KONG™ Cloud it is also bite and puncture-resistant, durable, and easy-to-clean. Unlike the KONG™ Cloud, it is a little broader, offering a bit more coverage.
Unquestionably, the best recovery collar for cats is the
KVP EZ Soft™
. Like many other recovery collars, it offers full body coverage, and is made of a soft, tear-resistant material. Where this recovery cone differs is that it uses a cinch-tight toggle for easy sizing as well as a Lycra neckline that keeps the cone securely in place without bothering your cat. Additionally, because the
KVP EZ Soft™
incorporates Flexstay™ technology, it can keep its shape while remaining lightweight and flexible. Due to cat's sharper claws and flexible bodies, an inflatable collar provides enough room for maneuverability, making it not one of the best options for cats.